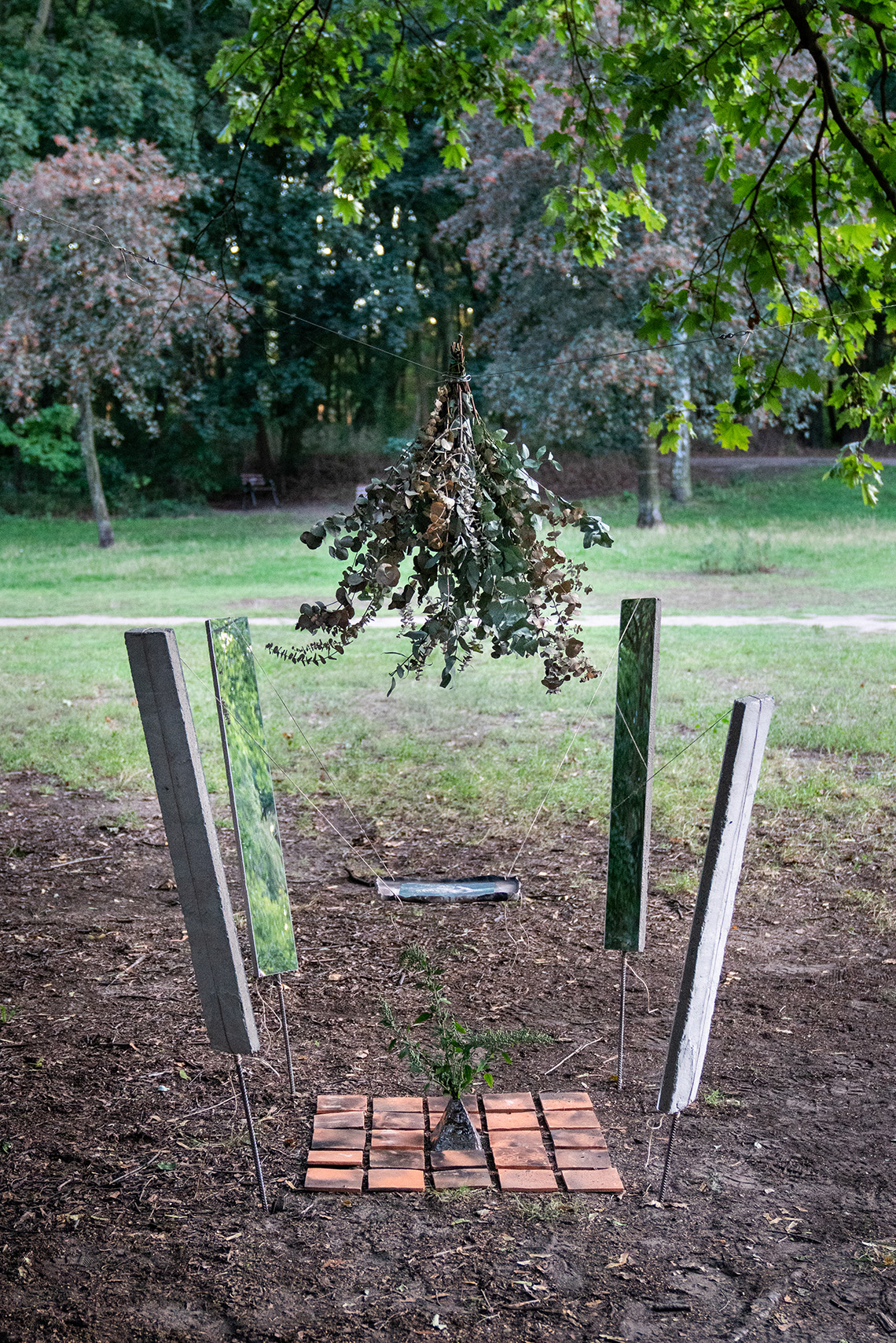 We Dance on Fire/Combusting Essences
Held on the 18th of September, 2020 in Volkspark Rehberge, Berlin.
eucalyptus, mugwort, rake fired earthenware and terra-cotta ceramics, glazed earthenware, natural fiber string, metal cabling, inkjet print, mirror plexiglass, rebar steel, fire

"We Dance on Fire/Combustible Essences" was a performative sculptural "happening" that took place on 18 September 2020, 6 months into the pandemic. Germany had lightened it's restrictions back in May, but people's fear of Covid-19 had made any communal gatherings nonexistent. The installation was held in Volkspark Rehberger, on what was roughly the middle point between when "In the Cycles of Time Grows Togetherness" was put on hold, to when it would eventually be picked up again. The event was preceded by a reading of a text by my collaborator on the project, Dalia Maini, which was then read by my life partner, Sarah Friend. Following the reading, a suspended bundle of eucalyptus was light ablaze, which in many different spiritual practices is a ritual practice to ward off negative energy, was intended to bring those close to me together, and to give way to a new cycle from the isolation that we had been living in the previous 6 months.


A Process of Colonization
installation of Babel IV, 2017 - 2018
Babel, Berlin, Germany
dieffenbachia, monstera, dracena, palm plants, earth, steel, concrete, wood, castors

Over the span of a year, I took notes on the changes of these 4 domestic house plants in the project space, Babel. The space was under construction, andwas granted temporarily to be used an art space by the owner of the property, a painter immigrating from China. He and his family were being relocated to Berlin the following year. The large eucalyptus tree had been in the space, neglected for over 8 years, and we speculate that it was able to servive due to the humidity of the space. I replicated the structure of the cube housing of the tree, and kept track of the ways the plant had changed every week in the unideal setting for a house plant. This included water saturation of the soil, dust accumilation, new growth or decaying leaves, as well as it's moved position by the workers and other artists that exhibited in the space.


Enthusiasts for the Centre, Part I: Decline, 2018
The Landing Strip, Berlin, Germany